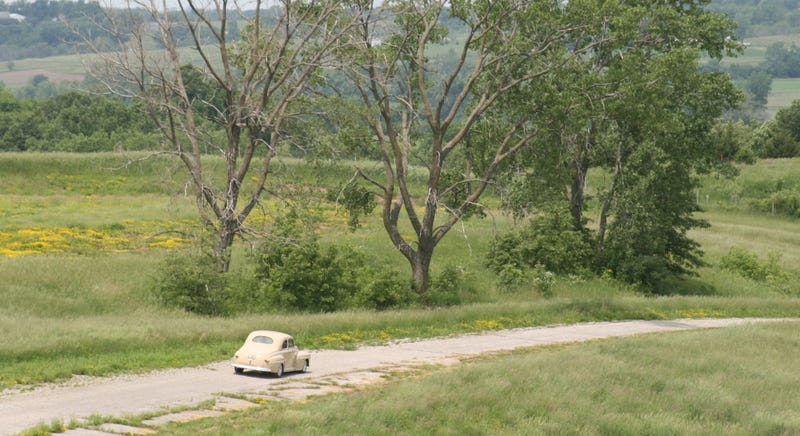 For 50 years, the Greenwood Roadway sat amidst rolling hills near Indianola, Iowa, slowly being overgrown by prairie grasses. Its surfaced is cracked, and in some places it's gone altogether, but the nostalgic fondness for the three-mile circuit has not been lost on race fans across the Midwest. This all came to a head last Saturday when over 300 people celebrated the 50th anniversary of the track's first race at the inaugural Greenwood Revival.
Although the circuit only operated from 1963 to 1966, its story is well-known and documented here on Jalopnik after its likeness to Deep Forest Raceway on Gran Turismo went viral. This exposure certainly didn't hurt the Revival; several people (young and old) told me they had never heard of Greenwood before that story but were amazed that such a place had been abandoned for so long.
For the first hour, a constant stream of cars filtered through the gates of the International Union of Operating Engineers complex. Owners of the land and track since 1998, the Union graciously allowed use of the circuit. They lent their buildings to event organizers to use for seminars, as well. Without them, there would be no Greenwood Revival.
As the day progressed, makeshift parking lots had to be expanded. A growing concours d'elegance soon included Triumphs, Minis, Jaguars, Corvettes and more—-although most of the cars' eager owners waited to park them after doing a lap or two around the track.
A food stand was set up, shirts and posters were sold near the entrance and memorabilia from the track's glory days could be found scattered throughout the event. At the start/finish line, a beautiful Jaguar Mark 2 sat underneath a flag that had flown at the circuit when it was in operation. Original posters and photographs were on display inside the buildings, and several of the cars on display had raced at Greenwood back in the '60s.
Around midday, at the top of every hour organizers held seminars which brought together key members of the track's history. Many people, from former drivers and track workers to former spectators and sons of the circuit designers, spoke to a packed room each seminar, and what I learned blew me away.
This was a circuit that held such promise when it was constructed, operating with the aim of being the best road course in America. Its 2.9 miles were touted as being 3.1, and it boasted 180 feet of elevation changes. It was a brilliantly fast, undulating track that wound through the forests and swamps. Some sections were pure Spa-Francorchamps. Others looked like the Nurburgring, dwarfed by tall trees that lean over the racing surface.
At the center of its grounds, Greenwood planned to build a pagoda for race control, accompanied by a multi-story clubhouse for a number of elite members. (One of the track's designers had studied in England for several years just a stone's throw from Brands Hatch, and the comparison of atmospheres between the two was palpable.) Taking advantage of the topography, a short ski run with an accompanying chalet was to be built on the north end of the circuit grounds, and there was talk of adding a golf course. This track would have it all.
Selling stock for $5 a share, Greenwood's worth increased. The first race, in early June of 1963, was a success, drawing over 15,000 people (which, given the remoteness of the location at the time, was quite a feat). Over time the crowds grew, but the circuit did not.
The factors leading to its demise were numerous and complex, but in the end the shares were all sold, the surface was irreparably damaged (some say by the heavy stock cars that headlined some of the late races) and the engines fell silent at the Roadway. The time was not right for a thriving road course in Iowa to succeed, regardless of its brilliance.
For nearly 40 years the land sat untouched, but in 1998 the Union bought it to use as training ground. Since then they have had the occasional admirer stop by and ask about the crumbling track. They've even let people drive on it, warning them ahead of time that it's a bit rough.
I was one of those people several years ago, having learned of Greenwood from ghost track websites and forums dedicated to sharing knowledge of abandoned circuits around the world. This place was unique, though, because it was still around. No malls or housing developments had ruined its untouched beauty. Sections were not missing or plowed for farmland.
I stopped by late one afternoon and found the last worker leaving the grounds. I asked if I could take some pictures of track, but the gentleman let me drive on it, too. I was absolutely beside myself, astonished that I could still recognize the distinct turns that I had only previously admired through satellite and vintage photographs. Greenwood Roadway was still Greenwood Roadway at its core, but only if you looked through the weeds.
As the crowds grew last Saturday, so did my love for the event and the disbelief that it was actually happening. Having driven the track and seen its decay, I wondered if it had been forgotten by everyone, and I was putting tires back on its surface for the first time in years. Happily, I was so wrong.
When I spoke to Chris Economaki in 2005, he asked where I lived. As soon as I said "Iowa," he immediately mentioned two things: The Iowa Speedway (then under construction in Newton), and the Greenwood Roadway. He remembered its narrow surface and ridiculous elevation changes, and he recounted many of the world-famous drivers to grace its 15+ turns.
The local Mustang and Corvette clubs have met at Greenwood in the past to drive around it, but those events paled in comparison to this one. Those clubs attended the Revival, as did clubs for Minis, Miatas, Nissans and British sports cars. Owners of restoration shops brought vintage race cars to display, and car collectors showed off some of their prize possessions. But you didn't have to have a vintage car to get in on the action.
Anyone who showed up could take as many laps as they wanted, but only after they were warned, "This used to be a racetrack. It's not a racetrack anymore…take it easy." Within hours, countless videos appeared on YouTube—-before Saturday, the few videos online that depicted Greenwood were taken by handheld cell phones. Many of the new ones are mounted, HD cameras that provide excellent views of the circuit.
For hours, car after car toured the circuit, but there were motorcycles that joined in as well as trucks and vans. At the end of their lap, many reached the frontstretch with a broad smile, eagerly yelling to the marshals "One more! One more!" It was incredible to watch.
In all, the event was a massive success (at least in my eyes). Eric Wieland, the Revival's chief organizer, explained that he had no idea what the turnout would be, so such a massive show of support for the track certainly exceeded his expectations. Countless people asked him if this could be an annual event, but he remained unsure, noting that it was "natural" to celebrate the track's half century of life.
"Some of these guys were 27, 28 years old when they were racing here. Add fifty years to that, and we're losing some of these people [every year]," Wieland said. He wanted to make sure at least one event like the Revival could happen before these wonderful stories disappeared. (Did you hear the one about Carol Shelby and some other drivers taking their race cars up the road on a Saturday night into downtown Des Moines? You could have, if you had been at the Revival!).
Wieland was thrilled that the article posted here on Friday led to the GreenwoodRevival.com servers crashing moments later. He noted that several websites across the GT and vintage racing community responded with articles of their own, and drivers (at least) as far away as Arkansas and California arrived after hearing of this unique anniversary.
I mentioned that several Jalopnik readers (including myself) would love to see this become America's Goodwood Revival. He chuckled and said he'd seen those comments, but he was more worried about getting the event on Saturday to take place at all.
This event alone may not save the track forever. That wasn't what the Revival was supposed to do anyway. It was held to bring the stories and knowledge back to the track with former marshals, drivers, fans and designers, then to spread that knowledge to a growing group of people who can now appreciate Greenwood's importance in racing history and Iowa history.
The Union has no desire to sell the land, we're told, but they don't have to. If nothing else, the Revival told them that people still care about this unique piece of history and want to see it honored and protected. As long as they take care of Greenwood, people can breathe a little easier about losing this one-of-a-kind circuit. And maybe, just maybe, people will gather again in the future for another Revival.
Ever since that drive of mine long ago, I hoped that someday the track would get the attention it deserved and would be remembered. But with the turnout we had at Greenwood last Saturday, it's obvious that for 50 years, no one really forgot.